COVID 19 Information Guide for Buddhist Organisations

A statement from the Multifaith Advisory Group in response to the coronavirus crisis: Unified leadership at this unprecedented time
Religion and ceremony as of 9 April 2021
From 11:59pm on Friday 9 April 2021, Victoria has further relaxed its COVIDSafe settings. These changes are designed to balance getting Victorians back to doing the things they love while keeping in place measures to protect all that Victorians have worked so hard for.
Religious gatherings, wedding and funerals can be held indoors or outdoors. There are no group limits and ceremonies can occur at the same time.
All venues must apply the

 

two square metre rule

 

and use electronic record keeping through the

 

free Victorian Government QR Code Service

 

or

 

Victorian Government Application Programming Interface (API)

 linked digital system.
It is recommended you wear a face mask when at a gathering or when you cannot maintain 1.5 metres distance from other people.
If you are planning to leave your home – take a face mask. 
For weddings, funerals and religious gatherings, if a service is conducted in a private home, the private gathering limit applies (100 visitors). You should not attend a wedding, funeral or religious gathering if you are feeling unwell. Stay home and get tested.
Find out more on https://www.coronavirus.vic.gov.au/religion-and-ceremony 
Coronavirus hotline
If you suspect you may have coronavirus (COVID-19) call the dedicated hotline – open 24 hours, 7 days. Visit https://www.dhhs.vic.gov.au/coronavirus
Please keep Triple Zero (000) for emergencies only
Passed at the Annual General Meeting of the Buddhist Council of Victoria in November 2020
With agreement from Ven. Thich Phuoc Tan
Abbot of the Quang Minh Temple, Braybrook
President of the Buddhist Council of Victoria
Former President of the Australian Sangha Association
Buddhists may elect to have their organs and/or tissues donated after death is medically determined.
A potential donor must have identified themselves during their lifetime, or advised their family that they wished to donate.
Some Buddhists require a period of at least eight hours chanting near to the body prior to the organs being removed. This requirement must be respected.
The doctor who is taking the organs should say out loud to the deceased person that they are fulfilling their vow made in their lifetime to donate the organs.
A deceased person must be handled gently and with respect.
It is recognised that living donors may be subject to exploitation and that this is unethical.
Living donors must have a bill of rights and an advocate to determine that they are not being exploited.
Living donors must receive the same standard of medical care as recipients so as to minimise harm.
Buddhist Protocol on Organ Donation
Find out more about the Australian Organ Donor Register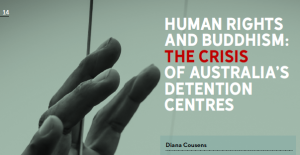 "Instead of a language of rights, Buddhism proposes a holistic view of an interdependent world where everybody matters. Everyone has the same aspirations for happiness, the same experience of suffering …"
writes Dr Diana Cousens, is Secretary of the Buddhist Council of Victoria and is a member of the Victorian Government's Multifaith Advisory Group. She has a PhD in Himalayan Studies from Monash University and publishes on Engaged Buddhism and the Tibetan treasure tradition. She is the Founding President of Sakyadhita Australia (2016-2017), an organisation representing Buddhist women, and is an Honorary Fellow of the Australian Catholic University.
Download the full paper published in Zadok 148m Spring 2020 journal 
Buddhist Climate Change Action Kit
Climate change is the defining issue of our time, and religious and spiritual leaders have a key role to play in tackling this issue and spreading compassion and care for our environment with all the myriad of sentient beings dependent on a functioning healthy ecosystem. Inspired by the quest to see things how they really are, Buddhism equips its followers to accept the confronting science of climate change.
Download the Buddhist_Climate_Action_Kit
The Buddhist Council of Victoria advises its member temples and centres that it is in their interests to adopt a policy to manage sexual harassment and child abuse.
Buddhist  temples and centres need to be prepared to manage potential problems in an organised and planned way. The aim of the policy is to help to plan a response based on individual temple's needs and circumstances and to think about the issues. The Council notes that sexual abuse and harassment are non-virtuous actions and in conflict with the Buddhist precept regarding sexual misconduct. The Buddhist Council advises all member organisations that they must comply with government requirements, such as the Working With Children Check.