BCV News – September 2020

Contents of the BCV September 2020 Newsletter 
New library at the BCV Mitcham Office

Spiritual Health Care by Ven. Hojun Futen

Prison Spiritual Care

Buddhist Weddings

Faith Communities Supporting Healthy Relationships by Jessica Wilson

A Buddhist Response to the Covid 19 Pandemic – Message from BCV President, Ven. Thich Phuoc Tan
COVID 19 Information Guide for Buddhist Organisations

A statement from the Multifaith Advisory Group in response to the coronavirus crisis: Unified leadership at this unprecedented time
Religion and ceremony:
You must wear a face mask whenever you leave home, unless you have a lawful reason for not doing so. You should maintain your physical distance of 1.5 metres from others.
Coronavirus hotline
If you suspect you may have coronavirus (COVID-19) call the dedicated hotline – open 24 hours, 7 days. Visit https://www.dhhs.vic.gov.au/coronavirus
Please keep Triple Zero (000) for emergencies only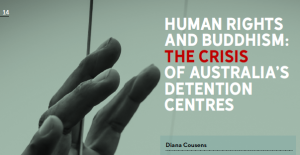 "Instead of a language of rights, Buddhism proposes a holistic view of an interdependent world where everybody matters. Everyone has the same aspirations for happiness, the same experience of suffering …"
writes Dr Diana Cousens, is Secretary of the Buddhist Council of Victoria and is a member of the Victorian Government's Multifaith Advisory Group. She has a PhD in Himalayan Studies from Monash University and publishes on Engaged Buddhism and the Tibetan treasure tradition. She is the Founding President of Sakyadhita Australia (2016-2017), an organisation representing Buddhist women, and is an Honorary Fellow of the Australian Catholic University.
Download the full paper published in Zadok 148m Spring 2020 journal 
Buddhist Climate Change Action Kit
Climate change is the defining issue of our time, and religious and spiritual leaders have a key role to play in tackling this issue and spreading compassion and care for our environment with all the myriad of sentient beings dependent on a functioning healthy ecosystem. Inspired by the quest to see things how they really are, Buddhism equips its followers to accept the confronting science of climate change.
Download the Buddhist_Climate_Action_Kit
The Buddhist Council of Victoria advises its member temples and centres that it is in their interests to adopt a policy to manage sexual harassment and child abuse.
Buddhist  temples and centres need to be prepared to manage potential problems in an organised and planned way. The aim of the policy is to help to plan a response based on individual temple's needs and circumstances and to think about the issues. The Council notes that sexual abuse and harassment are non-virtuous actions and in conflict with the Buddhist precept regarding sexual misconduct. The Buddhist Council advises all member organisations that they must comply with government requirements, such as the Working With Children Check.